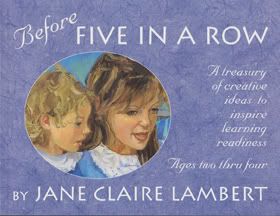 As part of the

Old Schoolhouse Homeschool Crew,

I had the opportunity to review a preschool curriculum called Before Five in a Row (BFIAR). If you've read my blog, you may already know that I like to use BFIAR with my younger children. There are some great

resources

out there to accompany the book list in this curriculum and we have enjoyed using those also!
As I talk with other moms, I sometimes find that

Before Five and Five in a Row curriculum

is still new to a lot of people. However, for the most part, those that have used it, loved it. (It was the recommendation of others that led me to use it.)
For our children, I use it as a supplement rather than as a stand-alone curriculum. It is geared towards children ages 2-4. However, the suggested books are so enjoyable that a child older than 4 can benefit from them as well.
The thought behind the Five in a Row curriculum is to read the suggested book for five days in a row so that as your child becomes more familiar with the book they will draw more from it.
As children are read each book consecutively, they are then able to discuss in greater detail the story, pictures, math concepts and science that can be drawn from it.
It is helpful to have a book such as BFIAR to do a lot of that ground work for you. They lay a great foundation of activities that involve science, math, art, and more that revolve around that particular story. I find that I don't use all of the activities, but I love that they think of activities or ideas to discuss that I never would have. It helps us get a lot more from the story!
I completely embrace the passion behind Before Five in a Row's (BFIAR) curriculum. They are more concerned about laying a solid educational foundation through literature and play rather than forcing rigid learning on a young child.
"Before Five in a Row is passionate about teaching, but the teaching comes through the subtle forms of play that are intrinsic to early childhood. These lessons are the important pre-education lessons that will both build your child's mind and fill your child's heart while truly readying them for the deeper academic experience to come."

(taken from

http://fiarhq.com/fiveinarow.info/index.html

)
As a mom of three I personally have to work very hard against becoming so busy that I don't leave time to let my children be children. They only get one childhood and I want their memories to be brimming with fun times reading books together like

Blueberries for Sal

and then going bluebery picking or reading wonderful books that teach truth like

"If Jesus Came to My House"

and then discussing what that story might look like if it were played out in our home.

Although I use this curriculum as a supplement, I make sure that all the learning activities for my preschooler are enjoyable. There is no need (ever) to make learning stressful. I am pleasantly surprised over and over again at the retention of my oldest in his literature-based school curriculum. BFIAR uses this same teaching tool with great results. It is amazing to me what a treasure

reading aloud

is to your children.
This book is available from

Rainbow Resources

and retails for $35. I
f you would like to purchase it, please click
here
.

(I am not compensated for these purchases.)
Of course, you can also see what other Homeschool Crew Bloggers are saying about this curriculum by clicking

here

.
Disclosure: I was given a copy of BFIAR to keep in exchange for a candid review.