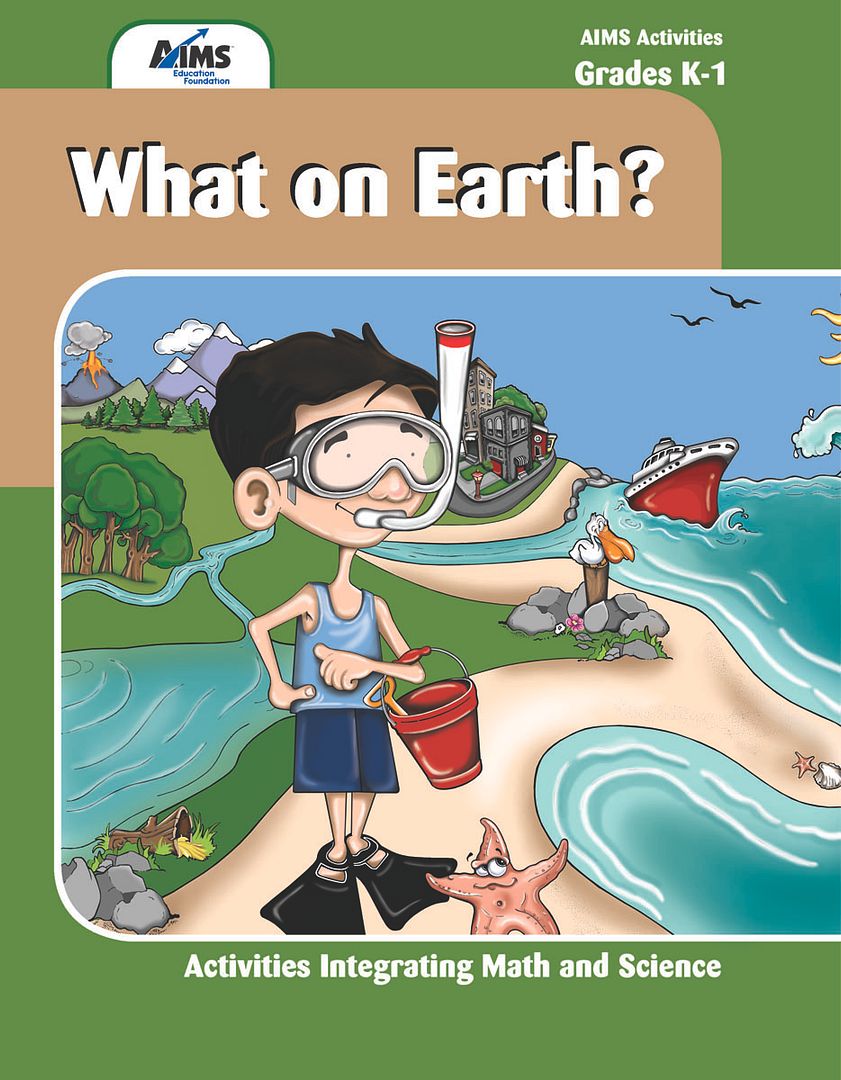 What We Reviewed
We reviewed the What on Earth? Science book for Grades K-1 from the AIMS Curriculum. I have always enjoyed AIMS Curriculum because it is fun and interactive for kids. This is my first time using it though in a long time!

AIMS does a fantastic job getting the students outside and exploring the world that God has made and does an equally fantastic job teaching them facts about His creation.
(Please keep in mind that this is not a biblically based math and science curriculum.
So far, I have found this curriculum to be overall neutral, learning neither towards evolution nor Creation. I do my best to teach our children evey subject from a biblical worldview. That being said, in one of the lessons, we are told that Nature has given us three gifts. Without being overly technical, I would prefer to ask our children Who rather than What has given us these gifts. However, for our family, just learning about the world around us, we can't help but exclaim how glorious the One is Who made it all!)
What is Included in What on Earth?
This particular book is
divided into the following six sections/concepts and has 30 activities:
Resources: The Earth has resources that are used to make all kinds of things. Resources can be conserved by recycling, reusing, and reducing their consumption.
Rocks and Soils: Rocks and soils have observable properties.
Water: Water is found in oceans, lakes, ponds, and rivers.
Changes: Earth's surface can quickly change due to hurricanes, earthquakes, volcanoes, and wind and wave action.
Day/Night: The sun and moon are objects in the sky that have repeating patterns of movement.
Seasons: The seasons form a repeating pattern. The changes in weather help determine our clothing and activities. (Information taken from

here

)
Hands-on science activities is definitely an area I could improve upon as a homeschooling Momma and this book gives you simple ideas to put that into action. This book provides activites, songs, printable books or worksheets, all of which are available to you on your accompaying CD or in the PDF version.
I think you'll find What on Earth? to be a great companion to another curriculum you're using or it can stand alone for a unit study. We benefited from the Day/Night Unit because we are currently studying space in our

Sonlight Curriculum

. It's so great to have ideas all in one spot for various units if you like to add extra curricular things to a particular unit. This book fit in great for that!
The topics in What on Earth? are very appropriate for younger students. Topics such as Fresh or Salty, Soil Samples (with Dirt Drawings), Volcanoes, and Day and Night were some that I thought would be of particular interest to children this age. I love that each unit t
akes a very hands-on approach to learning to help solidify what is taught.
Additonal Information
What on Earth? retails for $21.95. It comes with a CD for printing accompanying worksheets or you can buy the downloadable PDF version for the same price. (Not sure why that is, seems like it should be cheaper...)
Be sure to check out the

AIMS store

for other grade level and subjects. If you have any questions, please contact AIMS

here

. And, as usual, see what my fellow

TOS crewmates think about the books they reviewed

.
I hope you found this review to be helpful. Thanks for taking the time to read it!

*Disclaimer:
As a member of the TOS Crew, I received this product, at no cost to me, in exchange for my honest review. All opinions are mine.