Who Is My Neighbor? And Why Does He Need Me?


Once again, I am so blessed to be a part of the TOS Crew and review something from
Apologia
.
This current review is of
Who Is My Neighbor? And Why Does He Need Me?,
the Third Volume in the remarkable
What We Believe
Series geared towards children ages 6-14.
Each volume stands on its own and, so far, I have also reviewed
Who Am I? And What Am I Doing Here
if you'd like to read that review as well.
All of the books in this series have one textbook with two study helps that are available for purchase separately. I use the Textbook right along side our children because it has wonderful pictures that enhance each story. The second tool is the Notebooking Journal which I primarily use for our oldest and the third is the Coloring Book which is a must have if you have little ones that are listening in on the lessons.

Here is a brief synopsis about each of the materials I mentioned.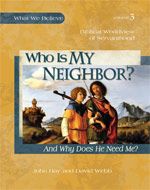 Textbook

This is solid, biblically based material that
I am absolutely crazy about
. I love that there are such deep truths throughout this book that are
taught in a practical, understandable way.

We have three children who I am using this with and they are ages 7, 4 1/2 and 2 1/2. We are taking it very slow through the material because of their ages and I do each section based on how the attention spans of the group are holding up. That being said,
you can definitely teach this to several children of varying grade levels at once.
I would recommend using some of the additional materials that I touch on below, though.

This curriculum is structured to cover 8 lessons with a suggested lesson plan in the introduction. However, don't let the small number of lessons fool you in to thinking that not much information is covered. On the contrary, it is a huge wealth of information that I could see taking us 1-2 school years to cover. (A recommended time frame for older children is 4-9 months).

The format of each lesson presents the initial "Big Idea" followed up with stories from history or God's Word, Scripture memory, truths, application and prayer.
No preparation is required whatsoever for this curriculum and its easy to read conversational approach does a wonderful job explaining concepts.
At first, I found myself stopping to explain something, only to realize that the authors were about to explain it in the following sentence. Now I just read the material and we discuss it as the children have questions. (Please note that if you would like supplemental material you may access it for Free with your curriculum purchase on the Apologia website. More information about this is found in the Introduction of each book.)

The purpose of this particular book is to help children understand what it means to be salt and light in our world (Matthew 5:13-14). "This study will encourage kids to develop a Christlike servant attitude based on these biblical truths: God created me to be a blessing to the world; God chooses to work through me; I can make a difference at home, in my community, and at church; the church is God's family; the church is one body with many gifts; and I am an important member of Jesus' body."

Here is an excerpt from Lesson 1:
"...if you choose to keep God's gifts to yourself, then you will never complete your mission. If you hide yourself away from the world, content to live out your days quietly and uneventfully until the Master returns, then you will fail to become what God always intended you to be: a blessing to the world."

Who Is My Neighbor?
challenges parents and children alike by teaching us...
we are here to make a difference.

You are here to change lives.

You are here to change your community.

You are here to change the world.
This hardcover 276 page book retails for $39.00.
Click here for a sample
.

Notebooking Journal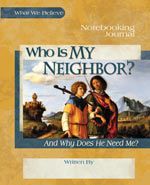 Although I don't suppose this
notebooking journal
is absolutely necessary, I do believe it will facilitate the application of the information better and
preserve it in a keepsake format.

It provides opportunities for your children to write or draw responses to poignant questions, do applicable terms in a word search format, write a prayer, write Scripture, and complete eight full-color mini books.
I like to use the Notebooking Journal as a follow up for each section we discuss if at all possible.

This 239 page spiral bound notebooking journal retails for $24.00.
Click here for a sample
.
Coloring Book
The coloring book is a great help if you have little ones who are listening in on the lessons with older children. A brilliant idea in my opinion to include a related coloring book for the little ones!
Pages are from sturdy paper stock rather than the paper used in typical coloring books. Coloring pages are of stories from the book and include Scripture when applicable.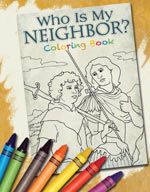 This 64 page Coloring Book retails for $8.00.
Click here for a sample
.
I hope you found this review helpful. I am thrilled with this curriculum and I think you would be too.
Thanks so much for visiting
Purposeful Homemaking
. Stay connected so you don't miss a thing:
This post may
involve product that was received in exchange for a review or contain
affiliate links for which I will earn compensation should you choose to make a purchase. I am disclosing this information in accordance with the Federal Trade Commission's 16 CFR Part 255, Guides Concerning the
Use of Endorsements and Testimonials in Advertising. Thank you for your support of Purposeful Homemaking.