What is "All About Learning Press"?
All About Learning provides a complete
Reading
and
Spelling
Curriculum based on the Orton-Gillingham approach and the latest research.
"All About Spelling is a seven-level program created to take the struggle out of spelling and All About Reading consists of eight levels," beginning with Level Pre-1.
source
What We Reviewed: All About Reading Level 1
I must admit, I have seen All About Reading advertised on homeschooling blogs on several websites and thought maybe there was just a lot of hype over a new curriculum perhaps. However, after using it, now I know why everyone likes it. I enjoy using it with our daughter and she absolutely LOVES it!
All About Reading uses a multi-sensory approach to teaching reading. I find this approach great when working with a child no matter what level they are at. It allows the knowledge to be understood and cemented even more into their memory the more senses that are used.
I would strongly recommend this curriculum for any student-whether they struggle or not. In fact, the developer of this program, created it as a way to help
her own son read
and spell--a child whose parents were told he would never read or spell. (Now that's a mom on a mission for you! Please take a moment to read this family's
story
.)
We reviewed the
Deluxe Reading Interactive Kit
along with the
All About Reading Level 1
. I like this program because it is hands-on with the color coded tiles, worksheets and phonogram and word cards. The information is taught in context and allows for quick application to reinforce the concept that was just taught.
As Marie, the mom-author of this curriculum shares, there are five key components of reading:
Phonological Awareness

Phonics and Decoding

Fluency

Vocabulary

Comprehension

(source)
This program ensures that all of these components will be thoroughly taught.
What We Thought
I like the step by step teaching guide. This helps the parent or teacher feel confident that nothing is being overlooked in the teaching/learning process.
Additionally, there are the phonogram and word cards that teach mastery. Our daughter is past learning her letter sounds, but I still like using them with her for review. After the lesson is taught, there is always follow up with a worksheet which she loves to use as well.
There are three readers that come with this curriculum, all of which are so cute and fun! When we received the curriculum, our daughter promptly sat down and started reading the first reader. The illustrations are really sweet and have a unique black and white scrapbook look to each page which I find enjoyable to look at.
If you'd like to, please click
here
for samples of this level.
I have used portions of several reading programs with our daughter in addition to an excellent on-line learning program geared towards younger children. It is paying off because at just 4 1/2 years old, she is already reading her brother's first grade readers. I would attribute her success, in part, to programs such as this. This is definitely one of my favorite reading programs to use.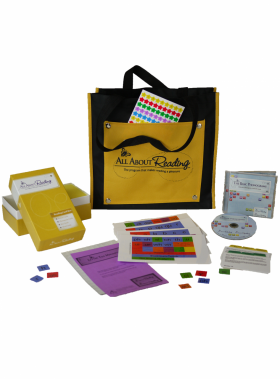 The All About Learning Programs come with lifetime support and a 100% money-back guarantee and if you have any questions, please contact All About Learning
here.
Thank you so much for taking the time to read this review! I hope you found it to be helpful. And, if you'd like, be sure to see what my fellow
TOS crewmates
think about this product, too!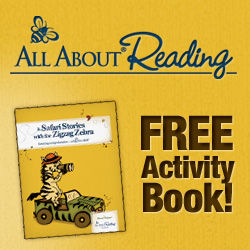 And be sure to check out All About Spelling too! (See below)
**Disclosure: I was given the All About Reading Program Level 1 in exchange for a candid review. I am also an affiliate with All About Reading and All About Spelling.