What I Reviewed
As part of the TOS Crew, our family had the privilege of reviewing an internet control software from
Action Alert
. We specifically reviewed the Maximum Protection option ($29.99 per year) versus the free option (which is still a great starting point!)
I was happy to review a program like this because we do allow our children to use certain programs on the internet (
abcmouse.com
,
pbskids.org
and a
Lego Direction site
) and it bothered me to know they might accidentally come across something that they shouldn't see. My husband and I had been discussing getting an internet control software program, so when the opportunity came to review Action Alert, I seized the opportunity!
What is Action Alert?
"Action Alert is an easy to use, patent pending, award winning computer safety solution that gives parents everything they need to create a "kid safe" computing environment. Simply installing Action Alert onto the family or kids PC gives parents an easy way to filter and block unwanted content, control when the computer is used and for how long and be informed when dangers or suspicious activity occurs (like if a child gives out personal information online)."
Action Alert has received several awards including Disney Family.com's iParenting which has awarded their technology as one of its best safety products for kids.

And Action Alert is the only product recommended by the Child Safety Network
www.csn.org
What Features Does Action Alert Offer?
With Action Alert, you have the option of two versions:
"Free Version

- Action Alert offers a 100% free version that many parents feel gives them the amount of protection and peace of mind they need - and for good reason!

Our free version offers more protection than you would otherwise pay $40 per year for or more with other products.

It includes a web filter to ensure safe searches, website blocking that prevents access to a constantly updated list of websites, time use controls – it even sends texts or e-mail alerts when dangers are detected.

All of this PLUS free tech support where calls are taken at our

Arizona

based support center by our friendly staff.

M

aximum Protection – Action Alert sends a message to your cell phone or e-mail when an event occurs that you should be aware of.

This message lets parents know they should take a look at the computer and probably have a talk with their young computer user. The Maximum Protection version simply gives parents a much more complete set of tools to see the details of the missteps their child or teen took online, or in some cases provides usable evidence of interactions when they were targeted by a wrong doer.

From the moment our 100% free version is installed, our technology goes to work recording the computer activity of your protected user. If needed, you can activate Maximum Protection and watch everything that happened like watching a DVR."

(This information was taken from actionalert.com)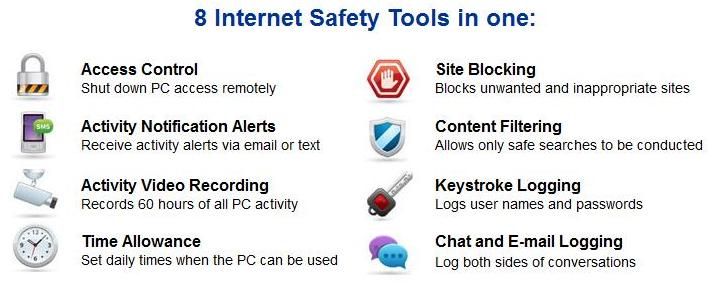 Although we don't have texting on our phones, I can verify that an immediate e-mail is sent if a suspicious word is searched for.
I also read on Action Alert's
Facebook Page
that they

always offer a 100% 30 day money back guarantee if you decide that the free protection was enough for your situation.
Also, after talking with customer service I learned that you if you buy the Maximum Version you can install that on any of your computers rather than just one and manage them under the one account.
What We Thought of Action Alert
Honestly, I'm not up on all the various blockers that are out there, but my husband feels that the one we used to have blocked more. However, I am happy to have Action Alert installed on our computer for now and I do appreciate what it offers.
My husband and I both noticed that our computer seemed to run slower once Action Alert was installed. He was able to adjust some settings, I believe, to help with that, but I think it still ran a little slower than usual.
When asked about it's blocking abilities (or in one case, lack thereof in our opinion) a customer service representative said that "
Action Alert maintains a list of hundreds of thousands of known inappropriate sites. You can add to this list by visiting
http://www.myactionalert.com
and click on Web Site Blocking. Here you can add sites to the blocked list. You can also choose to block all sites except those you specify.
Unfortunately, Action Alert does not have the ability to "filter" google search results. Luckily, we can block the actual pages that google references. For example: Go to google.com and perform a search for "playboy". Playboy.com will be in the search results. Note if you actually click on the link for playboy.com, the site will not be displayed, and the "Site blocked" page will be displayed.
You can limit the amount of inappropriate results returned by google's search engine by clicking on google's settings or options area, and setting google's safe search to strict."

Another option would be to set up a user profile for your children that is separate from yours and you can make the settings so that only certain approved websites can be viewed.
In talking with Customer Service, I was very impressed that they were able to help someone like me (as in, someone who knows pretty much nothing about computers.) :)
They were very kind and patient and didn't make me feel stupid for not knowing where certain icons were and such. They were also very knowledgeable about trouble shooting when certain install problems were happening. Should you have any questions or need help with Action Alert, I know they'd be happy to help you, too! Their toll free number is 855.639.9791.
I hope you found this review of Action Alert to be helpful. Sadly, we cannot protect our children from a lot of things in this world that we'd rather not have them see or hear. However, my heart has been prompted numerous times to get a blocker on our computer so that one of our dear little ones does not accidentally come across something.
If you have children or teens in your home I think the free download of Action Alert is a great place to start and you may find that's all you need!
If you'd like to see what the other TOS Crew Members thought, please click on the link
here
.
**Disclosure: As a part of the TOS Crew, I received access to the Maximum Protection Program for free in exchange for an honest review.