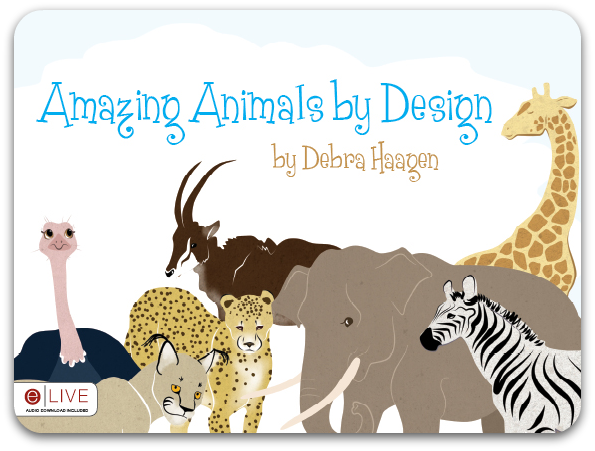 Amazing Animals by Design
This is such a cute little story that packs a big message. It's the story of John and Sarah and their parents taking a trip to the zoo, but while they are there, they learn that different animals are designed with a specific purpose in mind.
The Purpose Behind Amazing Animals by Design
This 24-page book (paperback
$8.99 or $7.00 for PDF eBook) was written
to introduce young children to the theory of Intelligent Design.
Here's a little information from the author, (
Debra Haagen, a military wife and homeschooling mother),

as to why she wrote this book.
She states:
"There are books explaining the theory for older students and teens, and there are storybooks about Creation. What I was finding with children I worked with in church and other places, however, was that when many children get to elementary school age and start to learn about the theory of Evolution, they believe the storybooks to be just that - stories.
I wanted storybooks for use in church and in homeschool with my own children that would begin to explain to younger children that there is scientific reason behind the theories of Creation and Intelligent Design, in addition to the historical documentation we have in the Bible.
When I could not find any books like that, I decided to start writing them. Amazing Animals by Design is my first, and I hope there will be more in the series. I wrote the book for children ages Pre-K up to about 3rd grade, at which point they may be able to understand the more scientific books that have already been written."
What We Thought About the Book
My children and I enjoyed this story, as well as the adorable characters. We love to go to the zoo, so this book fit in perfectly with our interests. It was a wonderful way to reinforce some of the things I've already been teaching them when we're at the zoo.
Other Information
The official release date of Amazing Animals by Design is April 3, 2012. At that point, it will be available for bookstores to carry, as well as on Amazon and other online retailers.
Until that time, it may be purchased from

this site

. You also might like to stop by the Amazing by Design Blog or perhaps the

Facebook page

. There's also an

author website

with pictures of the animals that were used in the book and some other fun stuf too.
Be sure to stop by the

TOS Crew Blog

to see what others thought about this book, too!

**Disclaimer: I was given a PDF version of Amazing Animals by Design to keep
in exchange for a candid review.