Kinderbach
is a music program for children ages 3-7 that helps teach children the basics of playing the piano. It teaches note reading, rhythm, singing, and composition. It can be used either in the home or in the classroom and is also available either
online
, on
DVD
or as an
iPad or iPhone App
.
This program is $19.99 per month or $7.99 a month if you make a one-time payment of $95.88 or you can order the DVDs and CD for $40.45 (plus s/h).
What Does the Program Offer?
Check out Kinderbach's free on-line trial
here
so you can view sample lessons. Or, you can sign up for a day pass for only $5.95. This allows you access to all 240 lessons!
With each lesson, there are printable worksheets.
There is also a lot of interaction (as much as is possible via a computer screen). You can tell that Karri, the music teacher for this program, really enjoys what she does and makes it fun for kids to learn music.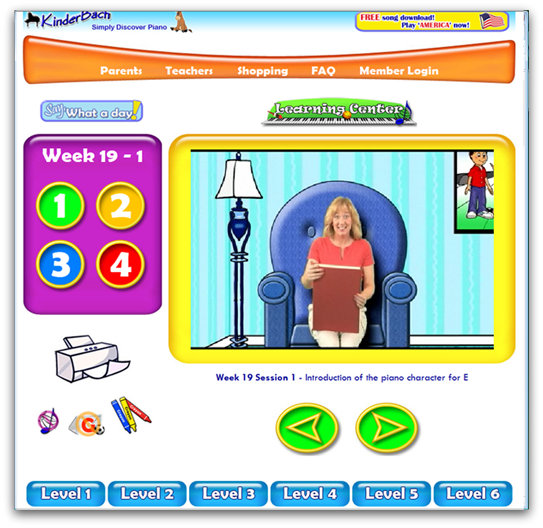 What We Thought
I like that this program can help teach our children music in a more thorough way than I ever could. Although I play the piano, I'm not great at the specifics of music and definitely need someone to teach them the fundamentals.
For as low as $7.99/month you will give your child a good musical foundation that will help prepare them for future music lessons.

Our 5 year old daughter primarily used this program, but our youngest (age 3) loved watching along as well and was very insistent that he use Kinderbach, too. A nice feature to this program is that with your subscription any number of children can use it without additional charge.

I would definitely suggest Kinderbach if your child does not have access to a music program or if private lessons are not in your budget. I would also suggest it as a great introduction to music for a younger child.
Our oldest child takes piano lessons so our daughter was excited to use this program. She enjoyed heading down to our piano and telling me that the two black keys were "Dodi's House" and the three black keys are the "Train Station". She learned terms such as forte and piano and that "walk" notes can be clapped and counted. She also enjoyed learning songs such as Pease Porridge Hot (which fit in great since we were learning about the Middle Ages for school).
She would spend a half hour or more working on her Kinderbach lessons. It is great having a safe online program for her to use that she enjoys and one that I know is teaching her something of value. A big thanks to Karri for all of her effort in putting this program together.
Karri is also offering a
coupon code for 30% off any order - homeschool, classroom, online or DVDs. Please use
Coupon Code:

TOS_crew2012 when checking out. Code expires December 31, 2012.

Disclaimer: As a member of the TOS Crew, I received this product, at no cost to me, in exchange for my honest review. All opinions are mine.