I'm really glad we have the chance to use
BigIQkids.com
!
It is a free (with optional paid membership up-grade benefits) on-line learning program geared towards Kindergarten on up. Our oldest (age 6) has really enjoyed using it and I'm very happy that he can get extra practice on things for school like timed math facts, state facts and spelling.
We are using the premium version of
BigIQkids.com
,
but they also offer free versions. The premium versions offer spelling/vocabulary, math and US states. It is $7.99/mth. for the spelling program or you can sve substantially and pay $39.99 for one year ($3.33/mth.).
The premium math program is $9.99/mth or $49.99/1 yr ($4.17/mth.) BigIQKids.com offers a 7 day free trial for all programs so you can be sure you know what you're buying should you decide to upgrade to the premium program. And, if you have any questions, you can view any of the
training programs
that they offer.
If your wondering what the primary difference is between the BigIQkids FREE and PREMIUM programs it would be "the ability of the PREMIUM program to monitor the progress of the student and advance that student only when mastery of the subject matter has been achieved. Additionally, PREMIUM members have their progress tracked, saved, problem areas identified and these findings are reported via email to parents and/or teachers. The PREMIUM program offers students customized buddies, full game page access and the ability to save game coins and gaming high scores. These functions help double the fun while mastering core academic subject matter. The PREMIUM program has very LIMITED advertisement and no ads are displayed during lesson interaction."

(information take from BigIQkids.com website)
One of my son's favorite lessons is the timed math drills. They are like a modern day flashcard drill (except I don't have to be there flipping the flashcards!) :)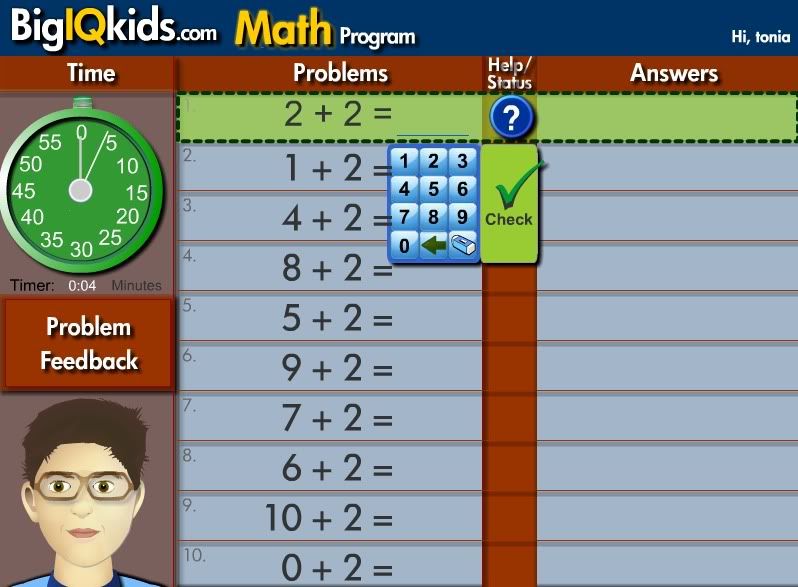 I'm also very happy with the spelling section that BigIQkids offers. You can even add your child's real spelling list from school into the program and they will use those words in various activities. I was very impressed that as I added words, they immediately came up with a sentence with which to use that word. BigIQkids.com's spelling and vocabulary lists are extensive and go up to SAT words.

The geography section covers information on the U.S. States. In my opinion it is very thorough and is actually covering things that we haven't touched on yet. It helps to know that just in case I might be missing anything, this should fill in the gaps. :)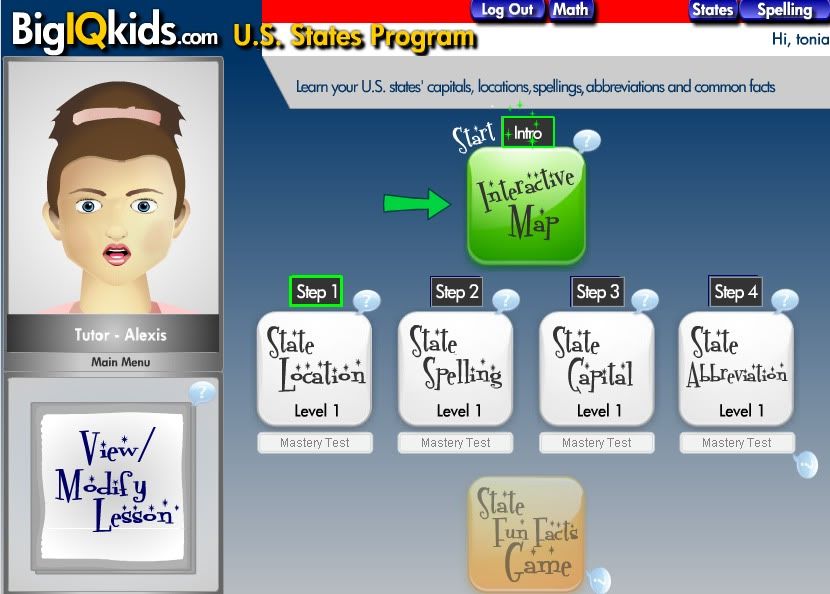 To sum is all up,
"BigIQkids.com turns your computer into an online learning academy by providing daily academic lessons for young learners in an interactive, easy to follow format. For the best results, children should log into BigIQkids.com daily and complete their lessons and quizzes. This 'daily' strategy builds invaluable study habits, leads to better grades and greater self confidence."

(information taken from BigIQkids.com)
I like that BigIQkids.com keeps in touch with me vial e-mail to let me know my son's progress. I can also view his progress via the BigIQkids Reports found in each of the programs. I'm glad that we can try this program for a year because I have a feeling that we will continue to unearth new great things about it. :)
One of the only drawbacks I've found so far is that initially it was a little hard to navigate around the website (e.g. registering my 2nd child which, in the end, was really too young for it anyways.) Also, I was told to go to a game page to customize the tutor but couldn't find it. (Still need to work on that!)
Of course, on-line learning programs cannot replace one-on-one teaching with your child. However, they are GREAT for reinforcing what you're learning and even covering things that you aren't necessarily covering yet with your child. If you are homescholing, it's also an excellent idea to have an on-line learning program like this for other children to use while you are focusing on one particular child. I love having a resource like this! I feel so blessed that we can use this program. And honestly, I can't imagine why you wouldn't want to use at least the Free aspect of this program. I would encourage you to check it out for your child.
When considering a product I always like to read a lot of reviews. If you do too, then head over to the
Homeschool Crew's blog
to check out other people's opinions.
Disclosure: I was given a free one-year subscription to BigIQkids.com in exchange for a candid review. Boy, am I glad I got picked to do this review! :)