IXL is an online math program for students in grades PreK through Algebra. Each level is separated by either grade level or subject. IXL is "free from any gimmicks or distractions, [making it] a place where every minute is spent truly learning math."
source
This program is available for both home and classroom.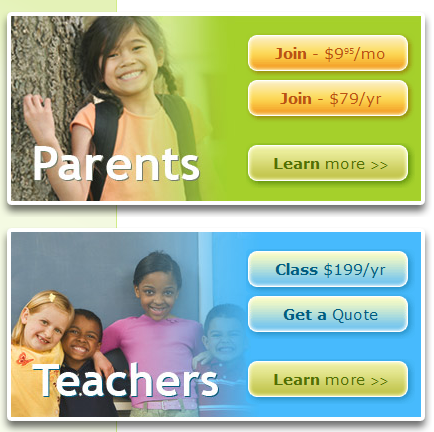 Here are some things I like about IXL:
I like having the option of choosing by subject because if you have a child who knows what grade he is in, but is perhaps struggling, you don't have to broadcast that he's working in a lower grade level than he is in.

It is very reasonably priced.

I think a program like this will help me "cover the bases." It will reinforce anything I have already taught our children and it will make sure that what needs to be taught is being taught.

Although my 7 year old son doesn't necessarily LOVE sitting down to do IXL, I still think it's beneficial for him. I plan to have him continue using this program throughout the summer because I feel that it will keep the math fresh in his mind without him feeling like we are sitting down to "do school."

I like that as your mouse hovers over the learning task, it gives you a sample of what it is referring to.

"IXL will track your score and the questions will even increase in difficulty as you improve!"

source

I like the very detailed reports feature on this site. I think they are my favorite of any online learning programs I have reviewed thus far. Here is an example of one of the reports in the above graphic. The center picture shows what skills were practiced and gives you an idea of how much attention was devoted to each one.

Also (not pictured) the reports will tell you which dates IXL was used, what skills were practiced and specifically how your child did on those skills (satisfactory, needs improvement, etc.) I found that aspect to be helpful because a skill I thought my son was doing fine with ended up being an area that he needed improvement in.

Students can earn rewards along the way to help keep them motivated.

I like that audio is an option for those that are not fluent in reading yet.
Areas of Improvement
Our oldest is 7 and I wanted him to do 5 of a particular objective and then move on to another 5. I didn't realize how frustrating that would be because, not only was he trying to do the problems, he was also trying to keep track of how many he had done so he could move on to the next skill.
A suggestion would be to make it not so wide open in the skills that the child can choose from. I feel that it might have been easier for my son (and consequently, me) to have a selection of his grade level skills randomly given in a session.
For example, a child could log in for a 20 minute session and within that session, random objectives would be covered. That way, a variety of skills are reinforced and it gives the child a tangible start/finish time without all of the focus being placed on the learning objective they happened to choose.
One more suggestion would be to have daily reports e-mailed to a parent, although they do offer them weekly.
Overall, I think this is an excellent math program for on-line use and we will continue to use it. I hope you found this review to be helpful.
Additional Information
If you would like to sign your child up for IXL, please click

here

.
Thanks so much for visiting Purposeful Homemaking! Please take a moment to
"Like" me on Facebook
,
follow me on Twitter
or join this site with
Google Friend Connect
.