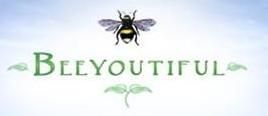 The Beeyoutiful Company

Beeyoutiful is a Christian company that strives to provide a range of products for those who desire to make healthy skin care and supplement choices for their family. They are gradually increasing their variety of products, but for now, have supplements for men, women and children, essential oils, beauty products and even a few small kitchen appliances.

What We Reviewed
One of the products I reviewed is the

lip balm

. These natural lip balms retail for $3.00 and come in either peppermint or orange.
Ingredients for Lip Balms



Although I did not really notice anything special about how this lip balm felt, I do like that the ingredients are natural rather than petroleum based. The ingredients for the lip balms are as follows:

GrapeSeed Oil- high in antioxidants (procyanidolic oligomers and polyphenols) and linoleic acid which nourish, moisturize, naturally provide anti-inflammatory support, and help smooth fine lines and wrinkles!
Shea Butter- also high in antioxidants, Shea Butter helps bring elasticity back to the skin, moisturizes, has natural sun protection, and helps bring healing to scars and wounds.
Beeswax- recommended by Mayo Clinic as an excellent choice for a lip balm, beeswax is high in germicidal antioxidants, possesses natural anti-inflammatory abilities, and has been shown to have antibacterial qualities. It gives body to the lip balm while providing moisture and cell restoration for your lips!
Essential Oils- (Either Orange or Peppermint Essential Oil depending on which scent you choose)
The other product we reviewed is the

Winter Breeze Vapor Rub

which retails for $18.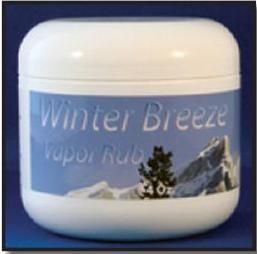 I was also happy to review the Winter Breeze Vapor Rub. Several years back when our oldest was sick and at the pediatrician's, I mentioned I was using Vick's Baby Rub on him and she told me to not use it.
I didn't think to ask her why, but trusted her judgment and stopped using it for the most part. (I'm guessing it is because it is

petroleum based

.) Back then I wasn't in to anything natural or organic whatsoever, so really never took the time to find an alternative.
Now I know better and for the past year or so have used essential oils for our children or us when we are sick. I've had great success with Eucalyptus oil especially when dealing with children who are coughing or congested.
In fact, our youngest was on breathing treatments several times from a "simple" cold. Once I started using Essential Oils, he was only on a breathing treatment one time and that's because he was sick back to back and I got nervous and gave him a breathing treatment.
Although I find my Essential Oils to be more effective, I still like this product because it is much easier to apply and it's ready made. So, if something comes up in the night, I can just grab this rather than mixing my Essential Oils and see if it does the trick.
We recently had a virus where we definitely put this to use. I rubbed it on our chest, back and the bottom of feet.
The Winter Breeze Vapor Rub uses beeswax, extra virgin olive oil, and coconut oil. "Eucalyptus, menthol, tea tree, camphor, and wintergreen essential oils work synergistically to help clear the head and sinuses, thereby relieving congestion, headaches, and pain around the eyes and face. They also have amazing antiseptic properties that help prevent infection from occurring. In addition, tea tree and eucalyptus contain immuno-stimulant properties to boost the body's natural defenses."

source
The added benefits of the coconut oil also help this rub to be
antimicrobial, antifungal, and antibacterial.
Although I have not tried this, Beeyoutiful does say that if you apply this Rub to the bottom of your feet regularly at bedtime for several months, foot fungus and cracking should disappear.
If you're hesitant to try your hand at Essential Oils, but want a petroleum free alternative, you should definitely give the Winter Breeze Vapour Rub a try!
To Place an Order
Orders may be placed on-line at

www.beeyoutiful.com

. (I wish their site was a little easier to navigate. I had the hardest time locating the products we reviewed, but they do have an area for suggestions for improvement.). I'm sure if you have a hard time placing an order, they would be happy to help you by phone at 1.800.556.0967.
Please stop by to see what my other TOS crewmates think about this company. Click on the link below.

*Disclosure. This post does not contain any affiliate links. I was given two products to sample in exchange for an honest review.